About Us
The delicate taste and aroma of Thai Cuisine is heaven for food lovers regardless of age. At Baiboon Thai Restaurant, we make sure that you taste the difference on how we prepare our house specialties such as Pineapple Fried Rice,Tamarind Duck, Baiboon Prawns and many more. We offer takeaways and deliveries on most days of the week so you get great food every day. Conveniently located at 21 Bennelong Parkway, Wentworth Point NSW, our crowd-pleasing dishes such as Spring Rolls and Chicken Satay never fail to please. Take a pick from our Thai Chef's Recommendations and explore tasty dishes such as Grilled Quail and Tamarind Duck, among others. Soups and Entrees abound and are tasty enough to go with all our main dishes. Stir-fries, curries, rice and noodles are a must! Click on the Order Online button for more information regarding our extensive menu.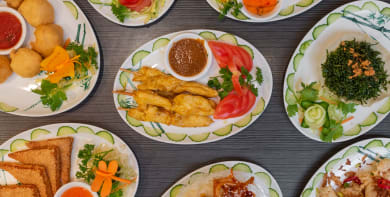 Reviews
47 reviews
Sam
"A perfect meal for a perfect evening.."
15/08/2020
Barbara
"Love the flavours. Polite and friendly service."
29/07/2020
Sam
"Beyond awesome!"
16/07/2020
Barbara
"Fantastic flavours. Very polite staff."
13/07/2020
Menu
Red Curry (GF)
Coconut milk flavoured with red chilli paste, vegetables, bamboo shoot, eggplant, pumpkin and basil leaves (Duck: cherry tomatoes, pineapple and lychee added)
$14.00
Green Curry (GF)
Coconut milk flavoured with green chilli paste, vegetables, bamboo shoot, eggplant, pumpkin, and basil leaves
$14.00
Panang Curry (GF)
A creamy curry flavoured with panang curry paste, bamboo shoot, kaffir lime leaves, served with steamed vegetables
$14.00
Massaman Curry (Beef Only)
Massaman curry of slow cooked beef with potatoes, onions and cashew nuts
$16.50
Chicken Wings (4 Pcs)
Deep-fried battered chicken wings, served with sweet chilli sauce
$8.00
Coconut Prawns (4 Pcs)
Deep-fried prawns battered with shredded coconut, served with plum sauce
$10.50
Scallop Cakes (4 Pcs)
Deep-fried minced chicken, prawns and scallops, battered with bread crumbs, served with plum sauce
$11.00
Spring Rolls (4 Pcs)
Crispy pastry filled with cabbage, carrot, vermicelli, water chestnut, shiitake mushroom, black fungus, and sesame oil, served with plum sauce
$7.50
Mixed Entree
Assortment of entrée consisting of spring roll, curry puff, fish cake and chicken satay
$9.00
Grilled Scallop
Grilled-wild caught sea scallop in mild chilli and lime dressing, on a bed of fresh salad and crispy schallots
$5.00
Fish Cakes (4 Pcs)
Deep-fried fish patty made with red curry paste, kaffir lime leaves, and green beans, served with sweet chilli sauce
$9.00
Baby Squids Tomato Salad
Grilled baby squids tossed in mild sweet chilli dressing, tomatoes, fried schallots, served with fresh salad
$11.00
Deep-Fried Soft Shell Crab
Deep-fried battered soft shell crab, sprinkled with fried garlic
$11.00
Chicken Satay (4 Skewers)
Grilled chicken thigh fillet skewers marinated with curry powder, turmeric, coconut cream, served with peanut sauce
$9.00
Baiboon Prawns (3 Pcs)
Crispy pastry filled with minced chicken and prawns, water chestnut, flavoured with ground herbs, sesame oil, served with plum sauce
$10.00
Curry Puffs (4 Pcs)
Puff pastry filled with potato, sweet potato, taro, carrot, onions, beans, and corns, flavoured with curry powder, served with sweet chilli sauce
$8.00
Tom Kha Soup
Mild coconut milk soup with mushrooms, flavoured with kaffir lime leaves, Spanish onions, and finely ground herbs and spices
$8.00
Tom Yum Soup
Traditional Thai spicy and sour soup with chilli jam, mushrooms, flavoured with kaffir lime leaves, Spanish onions, and finely ground herbs and spices
$8.00
Cashew Nut
Stir-fired vegetables with cashew nuts in chilli jam sauce
$14.00
Chilli Basil Sauce
Stir-fried vegetables with garlic, onions, bamboo shoot, chilli and basil leaves
$14.00
Ginger Sauce
Stir-fried fresh ginger with vegetables in oyster sauce
$14.00
Peanut Sauce
Stir-fried vegetables with Baiboon Thais homemade peanut sauce
$14.00
Oyster Sauce
A classic Thai stir-fried with vegetables in oyster sauce
$14.00
Garlic & Pepper
Stir-fried vegetables with garlic, ground pepper in oyster sauce
$14.00
Pad Prik-Khing
Aromatic Thai chilli paste stir-fried with vegetables and kaffir lime leaves
$14.00
Eggplants
Eggplants stir-fried with vegetables, basil leaves, in aromatic chilli and basil sauce
$14.00
Pumpkins
Pumpkins stir-fried with egg and vegetables in oyster sauce
$14.00
Yellow Stir
Stir-fried vegetables with chilli jam, egg and curry powder
$14.00
Beef Salad
Grilled marinated rump steak tossed with cherry tomatoes, pineapples, cucumber, Spanish onions, coriander, mint, ground roasted rice, in chilli and lime dressing, served with fresh salad
$17.00
Pork Salad
Grilled marinated pork neck tossed with cherry tomatoes, lychee, cucumber, Spanish onions, coriander, mint, ground roasted rice, in chilli and lime dressing, served with fresh salad
$17.00
Salad
Grilled Prawns or Seafood tossed with cherry tomatoes, pineapple, Spanish onions, coriander, mint, kaffir lime leaves, ground roasted rice, in chilli and lime dressing, served with fresh salad
$18.50
Larb Gai
Minced chicken mixed with Spanish onions, mint, coriander, chilli powder, kaffir lime leaves, ground roasted rice, in chilli and lime dressing, served with fresh salad
$16.50
Duck Salad
Roasted duck tossed with cherry tomatoes, lychee, pineapple, Spanish onions, coriander, mint, ground roasted rice, in chilli and lime dressing, served with fresh salad
$18.00
Black Sticky Rice with Thai Custard
$7.50
Peanut Noodle
Stir-fried flat rice noodle with vegetables in peanut sauce
$14.00
Thai Fried Rice
Traditional Thai fried rice with egg, onions, and vegetables
$14.00
Pad Thai
Thin rice noodle stir-fried with bean sprouts, egg, tofu, garlic chives, dried shrimps, roasted peanut
$14.00
Drunken Noodle (Pad Ki Mao)
Stir-fried flat rice noodle with egg, onions, bamboo shoot, vegetables, basil leaves, soy sauce and chilli basil sauce
$14.00
Hokkien Noodle
Hokkien egg noodle stir-fired with vegetables
$14.00
Spicy Fried Rice
Fried rice with egg, onions, bamboo shoot, vegetables, chilli and basil leaves
$14.00
Pad See-Ew
Stir-fried flat rice noodle with egg, vegetables, soy sauce and oyster sauce
$14.00
Pad Prik-Khing Soft Shell Crab
Crispy soft shell crab on stir-fried vegetables in Thai chilli paste and aromatic kaffir lime leaves
$23.00
Pad Thai Soft Shell Crab
Crispy soft shell crab on thin rice noodle stir-fried with bean sprouts, egg, tofu, garlic chives, dried shrimps, roasted peanut
$23.00
Choo Chee Barramundi
Battered whole baby barramundi fillets with creamy panang sauce, kaffir lime leaves, and crispy basil leaves
$30.00
Pineapple Fried Rice
Special Thai fried rice with prawns, chicken, vegetables, onion, cashew nuts and pineapples
$18.00
Eggplant Salad
Sliced eggplant tossed with prawns, scallops, lychee, cherry tomatoes, Spanish onions, coriander, mint, ground roasted rice, in chilli and lime dressing, served with fresh sala
$19.50
Massaman Lamb Shank (GF)
Slow cooked lamb shank in massaman curry with potatoes, onions and cashew nuts
$23.00
Prik-Phao Soft Shell Crab
Crispy soft shell crab on stir-fried vegetables in mild chilli jam sauce and crispy basil leaves
$23.00
Prik-Phao Barramundi
Battered whole baby barramundi fillets topped with green beans, onions, capsicum in mild chilli jam sauce, crispy basil leaves
$30.00
Chilli Basil Roasted Pork
Roasted pork belly stir-fried with vegetables, onions, bamboo shoot, basil leaves in chilli basil sauce
$23.00
Rad Prik Barramundi
Battered whole baby barramundi fillets with mild chilli sauce, garlic, coriander, green shallots
$30.00
Yum Gai Grob
Crispy chicken fillets tossed with cherry tomatoes, Spanish onion, coriander, mint, in chilli lime dressing, served with fresh salad
$17.50
Shiitake Mushroom
Stir-fried vegetables with fresh Shiitake mushrooms in oyster sauce with your choice of roasted duck, prawns of soft shelled crab
$19.00
Lamb Cutlet (3 Pcs)
Grilled lamb cutlets with special soy bean sauce, served with fresh salad
$22.00
Chilli Basil Pippies
Stir-fried pippies with onions, green beans, capsicum, basil leaves in special chilli basil sauce
$26.00
Tamarind Duck
Roasted duck on a bed of stir-fried bok choy in sweet tamarind sauce, served with lotus root and crispy schallots
$26.00
Grilled Quail (2 Quails)
Grilled quails, served with fresh salad, chilli and tamarind relish
$23.00
BBQ Beef
Grilled marinated rump steak, served with chilli tamarind relish and fresh salad
$18.00
BBQ Pork
Grilled marinated pork neck, served with chilli tamarind relish and fresh salad
$18.00
Contact Us
Find Us
3B/3 The Piazza, Wentworth Point, 2127
We deliver to
2115 Ermington, 2116 Rydalmere, 2127 Newington, 2127 Sydney Olympic Park, 2127 Wentworth Point, 2128 Silverwater, 2137 North Strathfield, 2138 Concord West, 2138 Liberty Grove, 2138 Rhodes, 2140 Homebush, 2140 Homebush West, 2141 Lidcombe, 2141 Rookwood, 2142 Rosehill, 2144 Auburn